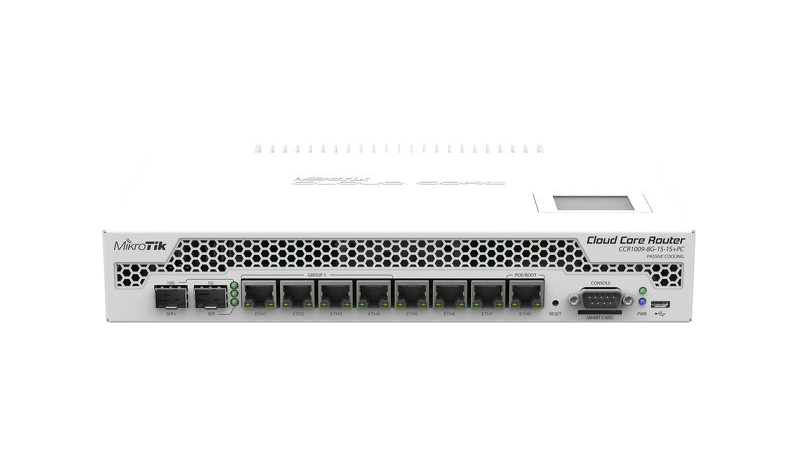 CCR1009-8G-1S-1S+PC
---
Free Shipping in Vietnam.
Feature
Our popular 9-core Cloud Core Router is now available in a new passive cooling enclosure.
This CCR1009 unit is equipped with two heat-pipes and a specially designed heat-sink, so its completely silent.
The unit is powered by an external 24v 2.5A AC/DC adapter and supports power redundancy if you also power it from the PoE input port.
The device comes with a desktop enclosure, but special rackmount brackets are also included, so it can be used either on desk or in rack.
Feature Title
​Product code
​CCR1009-8G-1S-1S+PC
​CPU nominal frequency
​1 GHz
​CPU core count
9
​RAM
​2 GB
​10/100 Ethernet ports
​0
​10/100/1000 Ethernet ports
8
​SFP ports
1
​SFP+ ports
​1
​Serial port
​RS232
​MiniPCI slots
​0
​MiniPCI-e slots
​0
​Number of USB ports
​1
​USB slot type
​microUSB type AB
​Power Jack
1
​Supported input voltage
14 V - 57 V
​PoE in
​No
​PoE out
​No
​Voltage Monitor
​Yes
​Current Monitor
​Yes
​CPU temperature monitor
​Yes
PCB temperature monitor
​Yes
​CPU Type
​TLR4-00980CG-10CE-A3a
​Operating System
​RouterOS
​License level
​6
​Operating temperature range
​-10C to +50C
​

​Dimensions

​

​272x190x47mm
*
Specificatons can be change without notification
.